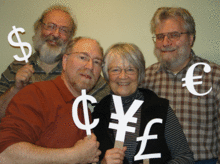 Sure, they're inevitable, but are they always what they seem?
Join storytellers Sam Butler, Barbara Fankhauser, Eric Foxman and Frans van der Horst for a light hearted plunge into some of life's – and death's – more taxing moments.
Since his retirement, Frans van der Horst has been telling stories about events  and people he has encountered all over the world. His two stories this evening will take us from our home in the Northwest to Cameroon, West Africa, and back again.
PSG president Barbara Fankhauser will be sharing stories of life's more taxing moments, from questionable tax preparers to the great moral dilemmas between what we want and what we know would be a really bad idea. A member of the Guild since 1989, she tells both traditional and personal stories – the quirkier the better.
Sam Butler is a veteran storyteller from the area. He will tell about the dangers of not sharing stories, and reflect on the age old taxing problem of successfully dealing with Death. (That's a capital D, folks)
Finally, Eric Foxman brings his twenty-five years of storytelling to the evening to share with us the true story of a famous piece of music and a story of the repercussions of customer service taken to its nth degree.
To round out the evening, Mark Niemann-Ross and Don Barnes will provide some light jazz music. Sure to be an unforgettable evening! Get all the details and tickets at Brown Paper Tickets. See you April 11!